Ceiling Fan Installation & Repair
Proudly Serving Our Neighbors in Maryland, Northern Virginia, and D.C.
Are you looking to add style and appeal to your home or place of business? Is energy savings important to you? Then ceiling fans are an excellent option. If you're looking for ceiling fan installation or replacement, the electricians at Bailey & Shipp Electric can help.
Schedule an appointment in Chesapeake, Millersville, Columbia, Annapolis, or beyond, by calling our experts at (410) 457-3507! We can help you take your home's style and comfort to the next level.
The Benefits of Ceiling Fans
Ceiling fans are a smart investment for just about any indoor space. During the hotter months of the year, ceiling fans can help decrease your energy bill by about 30% by providing a cooling draft to rooms, which means that your interior cooling system won't need to work as hard to keep occupants comfortable. The more ceiling fans there are in a room or throughout a building, the more energy savings you'll reap!
One interesting fact about ceiling fans is that they don't just cool the air in a room, they can also be reversed to help circulate warmer air around a room during cooler months. To do so, the blades need to be run counterclockwise (usually by simply flipping a switch) so that they push warm air down towards the floor.
Ceiling fans offer a lot more than just cooling and warming capabilities. They are also a way to add aesthetic appeal to any room, as they are available in a wide variety of sizes and styles to fit virtually any type of décor. Some are even available with interchangeable blades, offering you the opportunity to switch up the look feel of a room on a whim. If you install ceiling fans that also are equipped with lights, then these fixtures become doubly useful in any room by providing comfort to the air and lighting to the interior environment.
CUSTOMER SERVICE

When we say the customer comes first, we mean it. We treat each of our customers with the care they deserve to be treated.

FULLY STOCKED

Our trained technicians drive fully stocked vans so they always have the proper parts to fix whatever problem you may have.

Safety

A vital element of all electrical work is safety. Our customers and employees matter to us and ensuring both their safety and yours is important to us.

Quality Guarantee

We give 100% to each job, big or small! As a testament to that, all our services are backed by our 100% satisfaction guarantee.

Licensed and Trained

Our technician go through a rigorous training and receive upgraded training throughout the year, keeping them up on all the latest codes and procedures.

24/7 EMERGENCY SERVICE

We're standing by ready to help you no matter what time an electrical emergency strikes. If you have an emergency, we're available 24/7!

TOP TEAM

From the office to the technicians that service your home or business you know you have the right team behind you.
Need Ceiling Fans Installed? Contact Bailey & Shipp Electric Today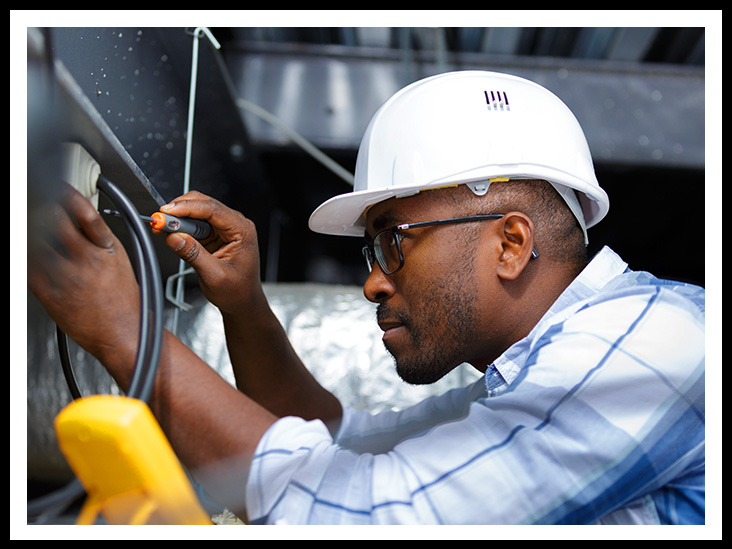 Amazing Service!

"After phoning Bailey and Shipp Electric this morning after we lost a wall of sockets yesterday afternoon, I was amazed when I got a call from Ricky, one of their courteous and talented technicians, that he was on his way only hours later!"

- Melanie T.

Exceptional Service!

"As usual, john did a great job. We just moved here to a new (to us) home and it's been great to have honest people come in over the last few months to repair and replace things that have come up."

- Rachel W.

Very Impressed!

"Bailey & Shipp provided excellent service from the initial call through the completion of services. Bob was very helpful and was able to work with me to get me scheduled and his follow-up to secure my appointment was impressive."

- Royce T.

Excellent Service!

"Excellent provider of electrical systems and repairs...good communication."

- Bill H.

Experience Is Great!

"I have worked with Bailey & Shipp Electric on several projects over the last few years. Each experience has been great. Right off the bat the person who answers the phone, Bob, is knowledgeable and professional."

- Scott O.
Let Our Team Help Your Home and Business Today