Installing & Repairing EV Charging Stations
Innovative EV Charging Solutions in Maryland, Northern Virginia & D.C.
Here at Bailey & Shipp Electric, we are proud to say that our dedicated technicians have provided the residents within the local areas of Maryland, Northern Virginia, and Washington D.C. with many years of exceptional service. This is why every one of our customers rely on us for all their electrical needs, including the crucial task of installing and repairing EV charging stations.
We are proud to have a great team of technicians who receive ongoing training throughout their careers, which is why you can depend on us to be fully up-to-date even with technology evolving as quickly as electric vehicle chargers. Visit our reviews to see what our customers have to say about working with our experienced team!
What to Consider When Considering an EV Charging Station Installation
It is important to carefully think about the type of charger you want to install. Not all models and makes of cars can use any brand of charger; for example, Tesla vehicles can only operate with charging stations directly designed by Tesla.
There are other key elements to think about, however, which you may not have been aware of initially, ranging from the distinct levels available to you to the length of time a certain station will take to charge your vehicle. By keeping these components in mind, you will be able to have the peace of mind that your charger will be up to your high standards after it is installed.
Some aspects to consider when deciding on the right EV charger for your home include:
What your property's existing electrical panel is able to handle
The number of cars that your charger will be supplying energy to
The speed at which you want your car to reach its full charge
The overall price of the installation and the savings you will benefit from
The location where your charging station will be mounted
The length of cable you desire to have in order to reach the connection
---
Give us a call now at (410) 457-3507 to benefit from a complimentary estimate for EV charging services in Annapolis, Columbia, Bowie, and beyond.
---
CUSTOMER SERVICE

When we say the customer comes first, we mean it. We treat each of our customers with the care they deserve to be treated.

FULLY STOCKED

Our trained technicians drive fully stocked vans so they always have the proper parts to fix whatever problem you may have.

Safety

A vital element of all electrical work is safety. Our customers and employees matter to us and ensuring both their safety and yours is important to us.

Quality Guarantee

We give 100% to each job, big or small! As a testament to that, all our services are backed by our 100% satisfaction guarantee.

Licensed and Trained

Our technician go through a rigorous training and receive upgraded training throughout the year, keeping them up on all the latest codes and procedures.

24/7 EMERGENCY SERVICE

We're standing by ready to help you no matter what time an electrical emergency strikes. If you have an emergency, we're available 24/7!

TOP TEAM

From the office to the technicians that service your home or business you know you have the right team behind you.
Scheduling Rapid Repairs for Malfunctioning Chargers
If you notice that the station is charging your car more slowly or is not working at all, or if you have ever seen small sparks or smelled a burning odor, it is critical to call dependable electricians right away.
What Is the Lifespan of an Electric Vehicle Charger?
A typical EV charger usually has a lifespan of 5-8 years, which is why you should begin to keep a sharp lookout if your station is reaching this expiration date.
What Are the Types of EV Charging Outlets?
There are three types of EV charging outlets:
Level 1 EV Outlets
Level 1 EV outlets will work for electric vehicles with smaller batteries, such as PHEVs (plug-in hybrid electric vehicles). Because these chargers are less powerful, the standard EV car battery will take longer to recharge. If slow charging time is an issue, consider having a Level 2 EV outlet installed instead.
Level 2 EV Outlets
A Level 2 EV outlet is currently the fastest and most effective way to charge your electric vehicle at home. This type of outlet will cut your EV battery charging time in half. EV outlets that have more power than a Level 2 outlet are considered a commercial outlets and are not intended for home installation.
Level 3 EV Outlets
Level 3 EV outlets are the type of EV chargers you will find at public charging stations. The voltage of these chargers is much higher and instead of using alternating current (AC) like Level 1 & 2 EV outlets, Level 3 charging uses direct current (DC). They are unable to be installed in residential homes for safety reasons.
What Is the Most Common Type of Home EV Charger?
Homeowners need Level 1 or Level 2 EV chargers. These chargers can be installed on a dedicated circuit similar to your washing machine, dryer, and other major household appliances.
Count on Bailey & Shipp Electric for Your EV Charger Repair & Installation
If you ever require a rushed repair on a station that has unexpectedly quit on you, a knowledgeable professional can provide the care you need, ensuring the job is done safely and effectively.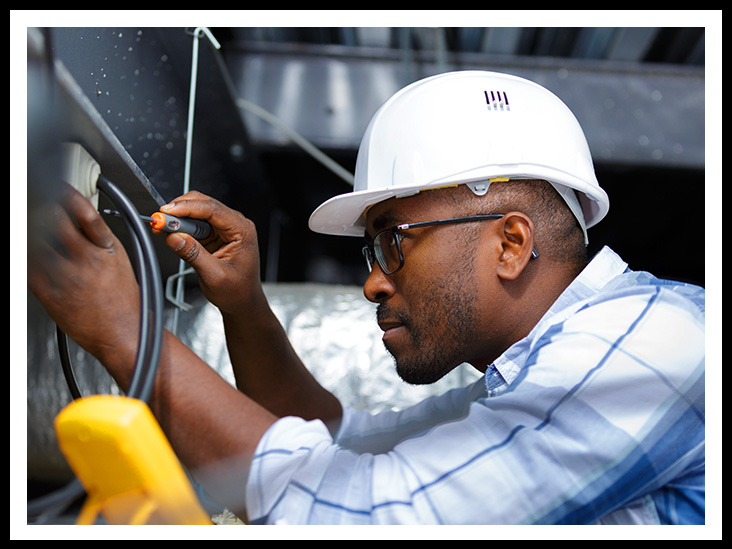 Amazing Service!

"After phoning Bailey and Shipp Electric this morning after we lost a wall of sockets yesterday afternoon, I was amazed when I got a call from Ricky, one of their courteous and talented technicians, that he was on his way only hours later!"

- Melanie T.

Exceptional Service!

"As usual, john did a great job. We just moved here to a new (to us) home and it's been great to have honest people come in over the last few months to repair and replace things that have come up."

- Rachel W.

Very Impressed!

"Bailey & Shipp provided excellent service from the initial call through the completion of services. Bob was very helpful and was able to work with me to get me scheduled and his follow-up to secure my appointment was impressive."

- Royce T.

Excellent Service!

"Excellent provider of electrical systems and repairs...good communication."

- Bill H.

Experience Is Great!

"I have worked with Bailey & Shipp Electric on several projects over the last few years. Each experience has been great. Right off the bat the person who answers the phone, Bob, is knowledgeable and professional."

- Scott O.
Let Our Team Help Your Home and Business Today